What kind of Rat are you? Wood, Fire, Metal, Water or Earth?
The Rat is one of the 12 animals in the Chinese 12 Animal Zodiac. From a Chinese astrology perspective you can be either a Wood, Water, Fire, Earth or Metal Rat.
Do you know what kind of a Rat you are? Or Ox, Tiger, Rabbit, Dragon, Snake, Horse, Goat, Monkey, Rooster, Dog or Pig?
There is a very simple way to find this out but I will give you a roudabout answer so that you get a better picture.
The basis of Chinese time keeping is the Heavenly Stems (Gan) and Earthly Branches (Zhi). Each of them have an associated polarity and element and in the case of the Earthly Branches they are closely related to the Zodiac Animals. For example the Branch "Zi" is associated with the "Rat", the Branch "Chou" with the "Ox", the branch "Yin" with the "Tiger" and so on.
The Stems are combined with the Branches to create a Stem-Branch pair. The golden rule is that only those of the same polarity can combine. For example "Jia" with "Zi" giving "Jia Zi". Both are yang polarity. Next is "Yi" and "Chou" giving "Yi Chou", both of which are negative polarity. "Zi" cannot combine with "Chou" because they are of opposite polarity.
Due to this limitation, there are 60 combinations instead of 120!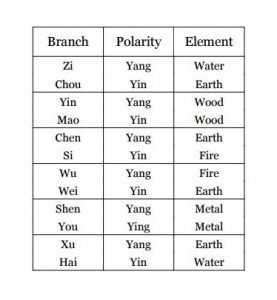 The Stem Branch pair or "Gan Zhi" pairs are use to denote the year, month, day and time. For example the year 1924 is known as the "Jia Zi". The next year 1925 is "Yi Chou" year and so on. This is repeated every 60 years. Thus 1984 is a "Jia Zi" year. And 2044 is the next "Jia Zi" year.
"Jia" is associated with Wood element. "Zi" with the Rat. Hence 1924 or 1984 are known as Wood Rat year. So is 2044.
There are 10 Heavenly Stems and they are repeated every 10 years. Therefore any year ending with the 4 such as 1924, 1934, 1944, 1954, 1964, 1974. 1984 etc are Wood Years (though the animal sign differs).
The next Stem in the series is "Yi" which is Yin Wood. Therefore 1925 is also a Wood year albeit a Yin Wood one. Again since the Stems are repeated every 10 years, any year ending with a 5 e.g. 1935, 1945, 1955, 1965, 1975 etc is a Yi or Yin Wood year.
What can you infer from the table? If you are born in a year ending with 4, you are a Yang Wood person. If ending with a 5, you are a Yin Wood person, if ending with a 6 you are a Yang Fire person, if ending with a 7, a Yin Fire person and so on.
Please refer to the table for the polarity and element for each of the years.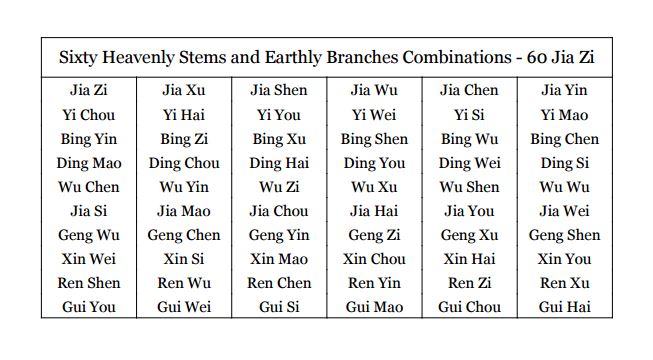 While it is as easy as A, B C it is not too difficult either. Just sing Jia, Yi, Bing, Ding, Wu, Ji, Geng, Ren and Gui!